Trina Solar Closes the Transaction of Solar Project Portfolio in Greece
2022.03.08
Trina Solar Co., Ltd. ("Trina Solar"), the global leading total solution provider for solar energy, announced the closing of the sales of a portfolio of solar photovoltaic operational assets in Greece to Hellenic Petroleum Renewable Energy Sources S.A. ("HELPE Renewables").
With a total volume of around 16 MW, these PV projects all located in the Viotia region, Greece, and have been commissioned by Trina Solar between 2013 and 2014. These projects have a strong track record of performance since interconnection.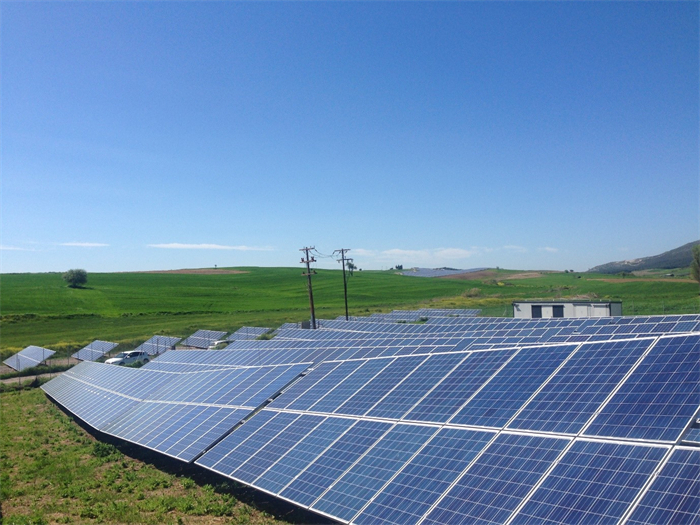 One of the projects among this portfolio
Mr. Leonardo Lotti, Head of EU Systems, Trina Solar International System Business Unit ("ISBU"), commented: "This transaction with such a leading player – completed by our highly professional EU team - marks another important step in Trina's continued interest and presence in Greece, where it has been operating over nearly 10 years. The sale of this operating portfolio is consistent with our renewed commitment to keep on developing its significant greenfield pipeline in EU and to further expand it in the coming years becoming one of the leading players in the European markets".
In Europe, ISBU has more than 1GW pipeline under development in several countries, including Spain, Italy, France, Greece and UK.
HELPE Renewables is a 100% owned subsidiary of Hellenic Petroleum Holdings S.A., a listed entity. Hellenic Petroleum Group holds a leading position in the energy sector in Greece and the greater SE Europe area. HELPE Renewables plans to develop significant wind, photovoltaic, and biomass capacity in the next few years, diversifying the Hellenic Petroleum Group's energy portfolio and contributing to balancing its greenhouse gas emissions. Specifically, HELPE Renewables' target is 600 MW of RES in operation by 2025 and 2,000 MW by 2030.
About International System Business Unit ("ISBU")
As world's leading solar products and energy solutions provider, Trina Solar delivers solar products, solar projects and turnkey energy solutions worldwide. Our solar project business includes project development, structuring, financing, EPC, O&M and asset management, providing one-stop solutions for the entire project life cycle. As of June 30 2021, Trina Solar has connected over 5.5GW of solar projects to the grid worldwide.
Trina Solar ISBU is dedicated for the utility scale solar project business for international market. With the core competences of global project development, customer-oriented structuring and financing, best project opportunities, and solid and comprehensive records, ISBU is a global leader in the development and management of solar projects, and is active in more than 15 countries and areas, including USA, UK, Italy, France, Greece, Spain, Japan, Colombia, Mexico, Chile, India, Australia, Vietnam, Maldives, etc.
Contact us: isbu@trinasolar.com