Trina Solar maintains AAA ranking in PV ModuleTech Q1'23 Bankability Ratings
2023.04.19
Trina Solar, a world leading PV and smart energy solution provider, has maintained its AAA ranking for the fourth consecutive quarter in the latest PV ModuleTech Bankability Ratings report released by PV Tech.
The company's continued presence within the highest category validates its ongoing outstanding performance in technology innovation, product value, shipments, customer value and low-carbon practices and underlines its position as an industry leader in each of these areas.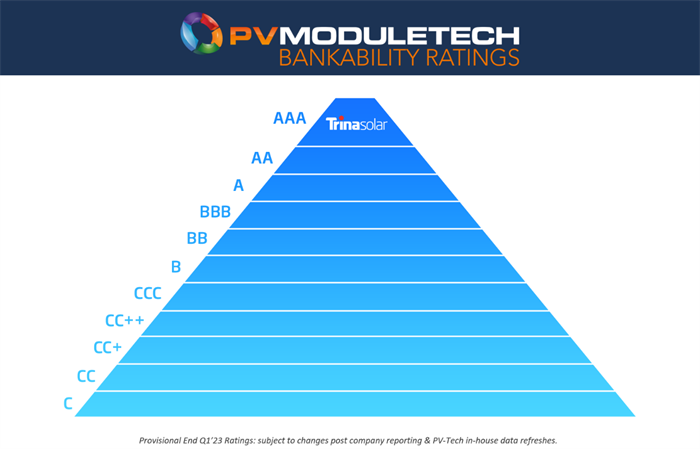 As a customer-oriented company, Trina Solar is committed to providing high-quality products. Its Vertex modules, with high power, high efficiency, high reliability, high energy yield and low LCOE, have become hugely popular around the world and the company has been ranked as a 'Top Performer' by PVEL for the eighth year in a row and recognized as an RETC 'Overall High Achiever' for the third consecutive year in 2022.
As an early mover in the field, Trina Solar has developed advanced n-type technology that has been brought into large-scale industrial application. Besides, Trina Solar's n-type full-scenario solutions, help customers draw great benefits in many settings.
As a responsible company, Trina Solar is deeply committed to delivering low-carbon products to global customers and adheres to the low-carbon practices in every aspect of product development, production and use. Trina Solar is a reliable and valuable partner for net-zero solutions in industries worldwide.
About Trina Solar (688599.SH)
Trina Solar was founded in 1997. As a global leading provider for photovoltaic (PV) module and smart energy solutions, Trina Solar delivers PV products, applications, and services to promote global sustainable development. Through constant innovation, Trina Solar continues to push the PV industry forward by creating greater grid parity of PV power and popularizing renewable energy. Trina Solar's mission is to boost global renewable energy development around the world for the benefit of all of humanity.
To date, Trina Solar has delivered more than 120 GW of solar modules worldwide. In addition, Trina's downstream business includes solar PV project development, financing, design, construction, operations and management, and one-stop system integration solutions for customers. Trina Solar has connected over 5GW of solar power plants to the grid worldwide. Trina Solar first launched the Energy IoT brand in 2018, and is now aiming to be a global leader in smart energy. In June 2020, Trina Solar listed on the STAR Market of Shanghai Stock Exchange. For more information, please visit www.trinasolar.com.
Media enquiries:
Trina Solar Europe
Michael Katz
E-Mail: michael.katz@trinasolar.com