Trina Solar Launching New Solar Module for Singapore's Growing Commercial & Industrial Roof-Top Solar Market
2022.10.25
Trina Solar, the leading global PV and smart energy total solution provider, is exhibiting at The Asia Clean Energy Summit (26-28 October) in Singapore.
Trina Solar is a leading exhibitor at the show where it will launch its new Vertex DE19R module for the Singapore market. At its booth (B07) it will have on display the Vertex S+, a n-type solar module that has maximum efficiency of 21.9% and maximum power output of 425W. This module is popular for residential applications. Visitors can also expect to see TrinaTracker's (Tracker business unit of Trina Solar) solutions and products such as the Vanguard 1P at the show.
Meanwhile, Trina Solar's Vertex DE19R module – which is launching in Singapore at the show – is designed for the commercial and industrial (C&I) companies wanting rooftop solar installations. The new module has maximum power output up to 580W and maximum efficiency of 21.5%. It uses 210mm cells and is different to the earlier generation DE19 module, because it incorporates rectangle rather than square-shaped solar cells.
Vertex N stands for Trina Solar's N-type series of modules. NEG19RC.20, a bifacial double glass module based on 210 rectangular silicon wafer technology and N-type TOPCon, is also showcased at the booth. This module's maximum power output is 590W, and the efficiency is 21.8%.
The high-performance module maximizes limited rooftop space available through the module's high power and efficiency, delivering a lower balance of system (BOS) cost and a lower levelized cost of energy (LCOE) while providing high reliability.
Additionally, the Vanguard 1P by TrinaTracker, a 1-in-portrait tracker designed to be fully compatible with the ultra-high power modules ranging from 400W to 670W is typically installed in utility projects. Engineered for adaptability, the next-generation intelligent tracker can be deployed across a wide range of different terrains while offering high stability and ensuring high energy yield.
Singapore's grid connected solar energy capacity from private commercial and industrial (C&I) companies grew 70% last year to 386.8MWp from 227.4MWp, according to data from Singapore's Energy Market Authority.
Todd Li, Asia Pacific president of Trina Solar, says: "The C&I segment is the largest and fastest growing segment of Singapore's solar market". The other two are residential and utility-scale.
"Singapore C&I companies have been installing rooftop solar to mitigate rising electricity prices, carbon tax rate and as part of community social responsibility (CSR) initiatives to help the environment," he says.
Trina Solar has been working with customers, distributors and Singapore electricity providers to help Singapore businesses install solar on their rooftops. Solar is attractive for C&I companies, because it makes the most of unused roof space. Businesses can either use the electricity generated from their rooftop installation or get money from feeding the electricity into the grid. Trina Solar has been operating in Singapore since 2011 and is one of the most established brands in the global solar industry. Singapore is Trina Solar's regional headquarters for Asia Pacific, excluding China. The company has nearly 60 local employees and is a member of the Sustainable Energy Association of Singapore (SEAS).
Visit Trina Solar at its booth (B07) at The Asia Clean Energy Summit (26-28 October) at the Sands Expo & Convention Centre in Singapore.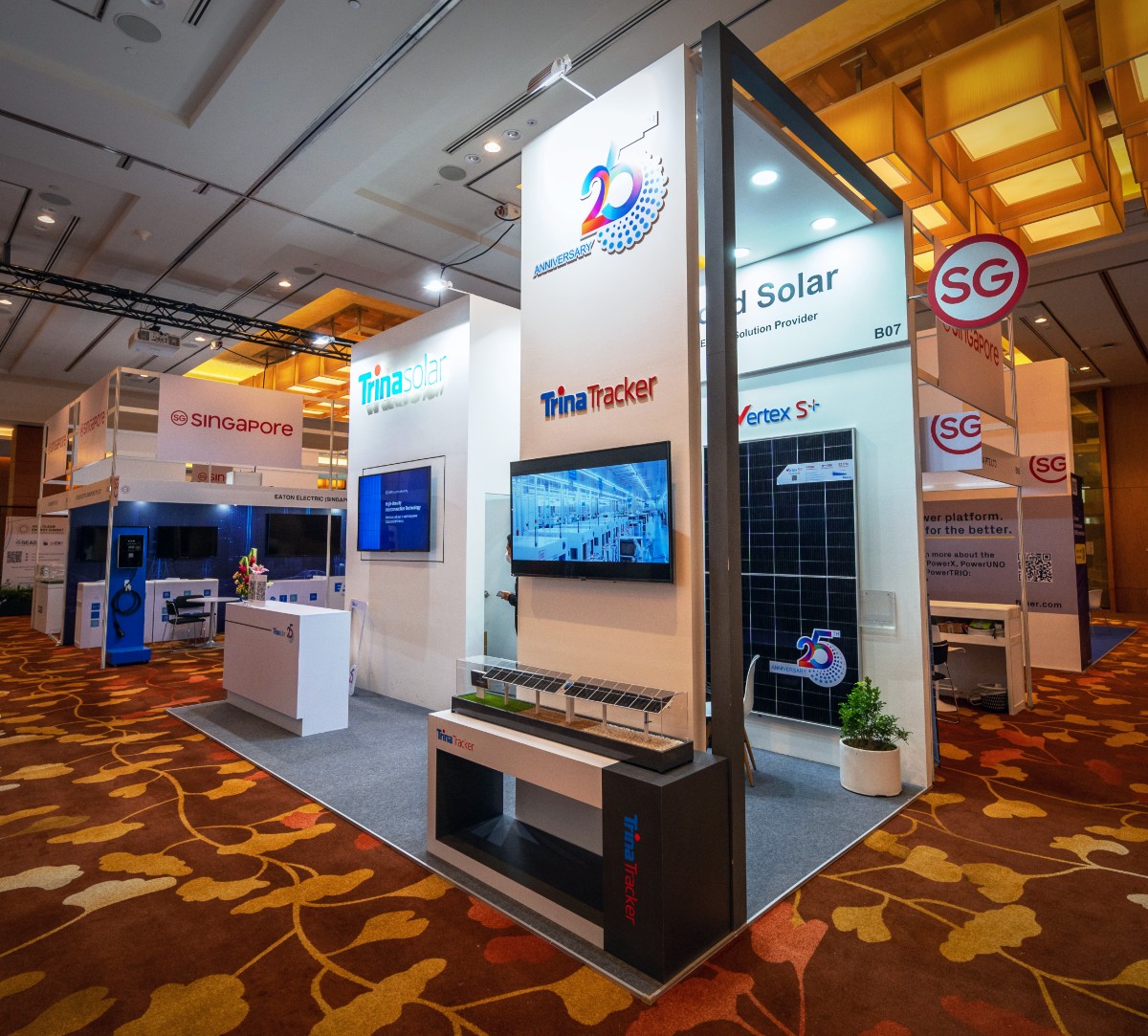 Trina Solar's booth (no. B07) at The Asia Clean Energy Summit