Trina Solar Showcasing Its 210mm Ultra-High Power Vertex Modules At South Korea's International Green Energy Expo & Conference
2022.04.13
Trina Solar is participating at the upcoming International Green Energy Expo & Conference in Daegu (13-15 April) where the company will unveil its newest, most advanced PV products.
Todd Li, Trina Solar president for Asia Pacific, says: "We look forward to exhibiting at South Korea's International Green Energy Expo & Conference and meeting with our industry partners, stakeholders and customers as well as forging new relationships in the industry."
"South Korea is a dynamic and sophisticated market that is very important to Trina Solar. At the Expo, we are showcasing our newest, most advanced products," he adds.
The company is displaying its Vertex series of modules, including 410W+ Vertex S module and 550W, 600W and 670W Vertex bifacial modules based on 210 technology. In addition, Trina Solar is showcasing the next generation of N-type Vertex module.
Trina Solar's 210 Vertex modules on display at the International Green Energy Expo & Conference
The Vertex N (model number NEG21C.20) has maximum power output of 685W. Based on large 210mm silicon wafers, this high power and high efficiency bifacial dual-glass module can deliver reduced balance of system (BOS) cost and further lower levelized cost of energy (LCOE). 210mm solar modules have been a mainstream choice with a continuously rising market share.
"The Vertex N module, thanks to its lower BOS and LCOE, is ideally suited to developers of utility-scale projects in South Korea where lower cost and higher return on investment (ROI) are key to success," says Todd.
Another highlight at Trina Solar's stand (booth HD-12) is Trina Tracker's Vanguard trackers. This includes the Trina Tracker Vanguard 1P, a single row tracker with one-in-portrait configuration (1P) and Vanguard 2P, a single-row, multi-drive tracker with two-in-portrait configuration (2P).
Vanguard 2P reduces piles by 45% thus remarkably diminishing construction costs and difficulty. It is equipped with a wireless communicator for the effective implementation of extreme weather protection. TrinaTracker SCADA, a new-generation smart visualized monitoring and control system, enables Vanguard 2P to perform system monitoring, early warning, smart diagnosis, and troubleshooting facilitating cost reduction and increase in the energy output.
The Vanguard 1P has been designed for sites that have both challenging terrain and high wind conditions, and it is also fully compatible with ultra-high-power modules ranging from 400W to 670W+, and further enriches the tracker's application scenarios.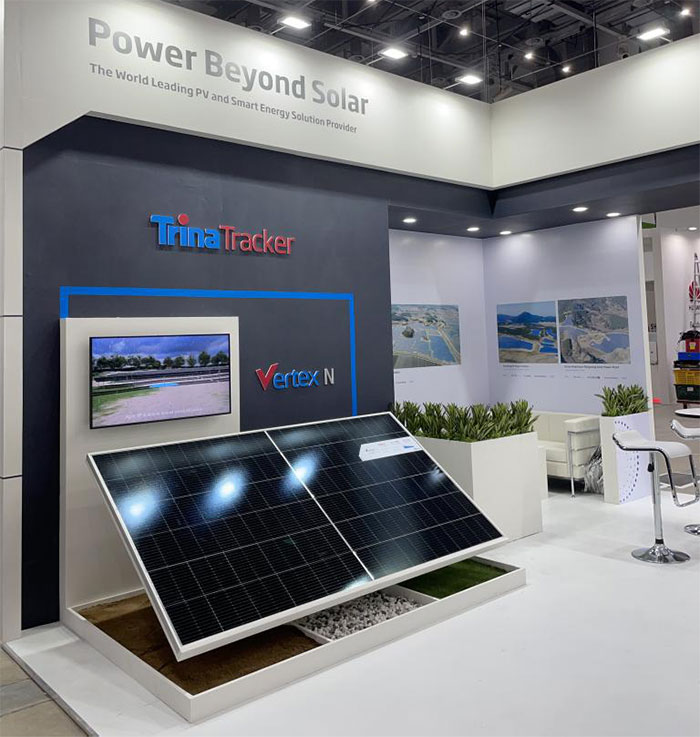 Vertex N module paired with Trina Tracker at the International Green Energy Expo & Conference
Trina Solar recently upgraded the intelligent matching databases for PV project design, which includes 22 string inverters of 238 products, 14 mainstream tracker manufacturers and over 30 tracker products. (Website: pvd.trinasolar.com)
The website offers six options: Tracker type, country, region, calculation organization, comparison module type and reference module type, allowing customers to identify BOS and LCOE data and the difference of various modules under a concrete project condition through an intelligent search.
The Vertex 600W+ modules with higher power, higher system value and lower LCOE have become the preferred choice for customers, providing a new path to achieve higher returns.