BloombergNEF Tier 1 list 4Q 2022 adds to Trina Solar's continued success
2022.11.29
Trina Solar has once again been listed in the recently released BloombergNEF Tier 1 PV Module Maker List, 4Q 2022, thanks to its outstanding reliability, brilliant bankability and leading technology innovation.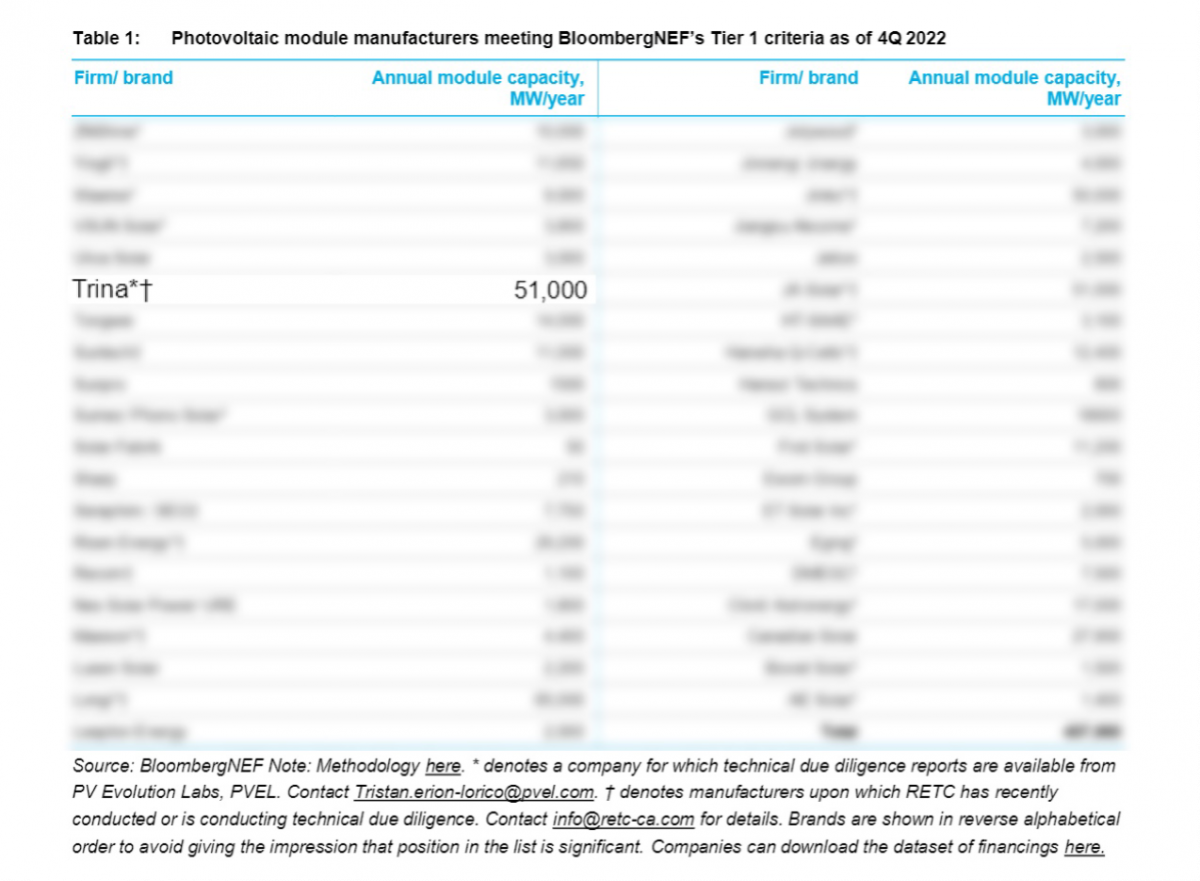 Source: BloombergNEF, BloombergNEF Tier 1 PV Module Maker List, 4Q 2022
The tiering system for PV module products is developed by BNEF based on bankability and a set of strict criteria, to create a transparent differentiation between the hundreds of manufacturers of solar modules on the market. Trina Solar's continued presence on the tier 1 list demonstrates global industry recognition of its quality modules, brand credibility and strong market competitiveness.
Outstanding reliability proved by third-party and empirical study
In addition to the tiering system, Bloomberg also takes technical due diligence reports from renowned third parties into account. Trina Solar has been listed as a Top Performer by PVEL for eight straight years and named a RETC Overall High Achiever for three consecutive years as of 2022. Moreover, Trina Solar's Vertex 670W modules at the empirical site withstood the strong typhoon Muifa with strong winds of nearly 160 kph, equivalent to a Category 2 Atlantic hurricane.
100% bankability for seven consecutive years
Trina Solar has won recognition in the financial market and from renowned institutes with excellent product performance, technological innovation and stable financial performance. Trina Solar is the only module manufacturer to be rated as bankable for 7 consecutive years by 100% and has been rated AAA, the highest category, in the Module Tech Bankability Ratings report by PV-Tech.
In the BloombergNEF PV Module and Inverter Bankability 2022 report released earlier this month, almost all (96%) respondents considering 210mm modules bankable.
210 product platform +n-type i-TOPCon technology continues to lead the industry
Guided by the LCOE-oriented principle, Trina Solar 600W+ ultra-high-power modules, created on the 210mm product technology platform, deliver lower LCOE and have become the trending product worldwide. According to TrendForce, the industry shipped 50GW of 210mm cell modules in first three quarters, and totaling 76GW since mass production. Trina Solar has shipped 40GW of 210mm modules, enjoying the biggest market share.
Trina Solar will continue to lead the industry by developing high-efficiency and high-power n-type products upon 210 technology platform. The recently launched Vertex N 595W and Vertex N 690W, boast an increased power of 30W to 70W over reference n-type modules in the market.