A joint initiative to promote the standardization of 210mm-size silicon wafer, modules in the photovoltaic industry
2020.11.30
To our fellow colleagues:
Over the past decades, the global solar industry has constantly been upping the potential value of photovoltaic industry chains and systems. Through the upgrading of silicon wafers, cells, module technology and manufacturing, the size of silicon wafers has increased from 125mm, 156.75mm, 166mm, 182mm to today's 210mm. This is an inevitable trend alongside increasing module power, reducing the costs of productions and power generation.
Both upstream and downstream businesses are witnessing the vast development potential and opportunities presented by the 210mm silicon wafer. Through the standardization of silicon wafers to 210mm as well as module size, the industry will achieve the best possible scale, and empower all businesses to improve production efficiency, optimize supply, and drive technological innovation. It will also reduce the initial investment required for manufacturing and photovoltaic systems as well as decreasing the cost of photovoltaic power generation, eventually achieving grid parity, promote green and low-carbon initiatives as well as lead global development in sustainable energy.
With this, we jointly propose:
selection of 210+/-0.25mm as the standard size of silicon wafers in the 210-220mm size range under the SEMI Photovoltaic Standards, while revising the existing module size standards of SEMI.
promotion of the standard sizes of silicon wafers and modules as in the appendix.
We are hoping our colleagues can actively adopt this technical standard, as well as develop and make excellent photovoltaic products on this basis.
Companies joining this initiative (Listed in no particular order):
Trina Solar Co., Ltd.
Risen Energy Co., Ltd.
Canadian Solar Inc.
Huansheng Photovoltaic (Jiangsu) Co., Ltd.
Tongwei Co., Ltd.
Jiangsu Runergy New Energy Technology Co., Ltd.
Tianjin Zhonghuan Semiconductor Co., Ltd.
Wuxi Shangji Automation Co., Ltd.
Appendix: the standardization of 210mm silicon wafer and module size
1.Standard size of silicon wafer: length side: 210 (+/- 0.25mm); diameter: 295mm (210-1) or 285mm (210-2)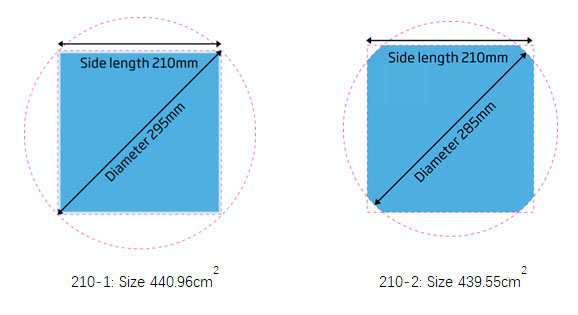 2. Standard size of Modules: