TrinaTracker Brings Love and Support to Kalenjin Tribes in Kenya
2022.03.17
TrinaTracker, a leading tracker manufacturer and business unit of Trina Solar Co., Ltd., has completed the delivery and construction of three PV power plants for Radiant, Eldosol, and Kesses in Kenya. These projects are located in Uasin Gishu County, with a total installed capacity of 155 MW.
Unlike usual, in order to make the PV construction better promote the local economy and help the locals improve their living standards, TrinaTracker cooperated with the local government to hire villagers from five nearby villages of the project and involve them in the construction of PV projects after technical training. These villages are all Kalenjin tribes. Kalenjin is one of the 48 tribes in Kenya and mostly lives by sheep herding. Over the past three years, the training has enabled the local villagers to acquire different knowledge and increase their economic income by building PV power plants.
In addition to technical training, TrinaTracker's local team has provided support and assistance to the villagers in their daily lives and other aspects, building a deep emotional bond. According to José Carlos Talavera, TrinaTracker's head of the project in Africa, they are invited to the local church to celebrate together during festivals and are often invited to villagers' homes for tea and conversation or an authentic local meal.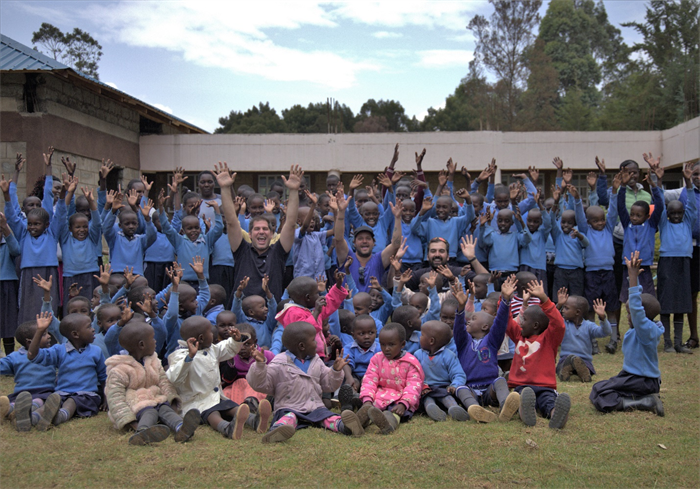 (Photo: The TrinaTracker team celebrates with students of the Watergate Primary School)
The local children are also interested in the "new gadgets" of the PV power plants. Invited by the local government and as a token of appreciation for the warm companionship of the local villagers over the past three years, the TrinaTracker team came to the Watergate Primary School in Uasin Gishu County, donated toys and school supplies to the students, and conducted a series of lessons. The lessons include the knowledge of solar power generation, environmental protection, and renewable energy that children were curious about and the cultural customs in China, Europe, and Africa.
José Carlos says: "We are proud of deploying PV power plants in remote areas, as we can also help the local people through the projects we do. Like the Kenya projects, it's a great pleasure for us to see how the Kalenjins learn about PV technology and grow their sustainability awareness."
For more information about TrinaTracker, please visit: https://www.trinasolar.com/eu-en/product/TrinaTracker
About Trina Solar (688599.SH)
Founded in 1997, Trina Solar is the world leading PV and smart energy total solution provider. The company engages in PV products R&D, manufacture and sales; PV projects development, EPC, O&M; smart micro-grid and multi-energy complementary systems development and sales, as well as energy cloud-platform operation. In 2018, Trina Solar launched its Energy IoT brand, established the Trina Energy IoT Industrial Development Alliance together with leading enterprises and research institutes in China and around the world, and founded the New Energy IoT Industrial Innovation Center. With these actions, Trina Solar is committed to working with its partners to build the energy IoT ecosystem and develop an innovation platform to explore New Energy IoT, as it strives to be a leader in global intelligent energy. In June 2020, Trina Solar listed on the STAR Market of Shanghai Stock Exchange. For more information, please visit www.trinasolar.com.
Media enquiries:
Trina Solar Europe
Michael Katz
Tel.: +49 89 122 8492 60
E-Mail: michael.katz@trinasolar.com